Lisboa's fashion transfusion



Katty Xiomara

The sublime "butterfly effect". Exquisite and colourful patterns with complex lines and scales remind us of the essence and charisma of a butterfly. Katty Xiomara showed a contemporary fairy dressed in warm colours, highlighted by black.



Os Burgueses

This design duo named their collection An Opera for a New World. They took us on a journey of family heritage, self-pleasure and love. Grey, white and pale pink brought the fabric to life.

Filipe Faísca

The Bionic and Botanic collection by Filipe Faísca brings us vibrant colours in fluid fabrics. Faísca took his inspiration from the 1920s, 1960s and 1970s, with fabrics like mousseline, georgette, crêpe de chine, silk double crêpe and leather.

Maria Gambina

Maria Gambina brought to life a delicate feminine collection with graphic images, patterns, ink strokes and collage. Meanwhile, the men's collection brings us a laid-back, yet clean, attitude. A runway full of vibrant and neutral colours were inspired in Ned Doheny's album Hard Candy.
Related articles
New York's flawless fashion, and beyond
Lola Saab and Jack Yan look at some of their on-trend favourites from New York's spring 2012 catwalk as the items hit the stores
photographed by Stephen Ciuccoli, Dan Lecca, Frazer Harrison and Mike Coppola
Milano: sophistication through subtlety
Jazz, Spain and the American west all played their part in inspiring Milano designers for spring–summer 2012, write Katherine Thomson and Ella Garland-Levett
photographed by Thomas Salme

Get your copy of Lucire now, for tablet, PDF or print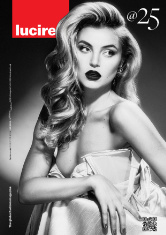 Make sure you don't miss out on the latest issue of Lucire. Download the Ipad or Android app now, read it as a PDF via Scopalto, or order a print edition from Vertia.