Berlin: bright and bold for winter



Schumacher

The autumn–winter 2012–13 collection, New Diva, by Schumacher was characterized by soft flowing shapes and the use of fur and silk. The creations were dominated by earthy tones. The colour accents were beige, rust, dusky pink and acid green. Dorothee Schumacher was inspired by original pattern cuttings from the '30s by the fashion icon Madame Grès, which she had found during a visit to a fashion museum in Kobe, Japan. The show was opened by model Luca Gadjus.

Guido Maria Kretschmer turned his models in to a kind of Asian diva for the presentation of his new collection. The mask-like make-up reminded us of the faces of geishas, while the collection showed a lot of Asian flair. He created magnificent and body-hugging robes for the big show, using sophisticated, shimmering silks and tons of sparkling sequins and stones. The sumptuous evening dresses with trains and deep back cut-outs celebrated the female silhouette in a very graceful way. The designs are inspired by a trip to the trans-Siberian railway through Asia, which Kretschmer embarked on some time ago, making this his most personal collection.

.

Michalsky

Michalsky makes everybody lust after fashion, this year. This was also the name of his collection: Lust. For the finalé of Fashion Week Berlin 2012, Michalsky employed bright colours and gaudy coloured prints, encouraging greater lust for life in times of crisis. Glittering metallic fabrics, shimmering silks and flattering and translucent chiffons made you lust for more. Michalsky presented his collection in Tempodrom, a huge event hall, near the Mercedes-Benz tent. The musical accompaniment to Michalsky Stylenite was Frida Gold and Marina and the Diamonds. At the end of the show, a new version of the Frank Sinatra song 'New York, New York' was played as an ode to 'Berlin, Berlin'.
1 | 2
Related articles
Berlin: urban and edgy
Sabine Ernest looks at the spring–summer 2012 collections in Germany's capital
photographed by Maurice Luckett/Fashion Aviator and Anna-Priska Hübsch
A resurgent Berlin
Vicki Matias gives her round-up of Berlin's autumn–winter 2011–12 collections, with confidence the underlying theme
photographed by Maurice Luckett/Fashion Aviator and Anna-Priska Hübsch

Get your copy of Lucire now, for tablet, PDF or print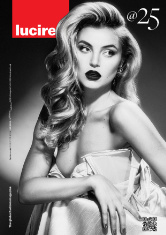 Make sure you don't miss out on the latest issue of Lucire. Download the Ipad or Android app now, read it as a PDF via Scopalto, or order a print edition from Vertia.