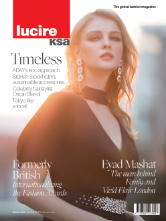 Lucire KSA was launched in November 2018. Along with so many other women in Saudi Arabia, fashion is my passion and to have been appointed editor of such a great publication is a personal dream-come-true. My background is mainly in visual and digital media. However, I worked for two years as associate editor for a leading Saudi newspaper and this gave me a good grounding in journalism. I'm absolutely thrilled and honoured about this new and exciting opportunity.
As you will see, most of this month's issue is about international fashion, beauty, lifestyle and travel. My mission as editor, going forward, is to quickly increase the amount of local Saudi and regional content. We're now at a time in Saudi Arabia where we need to take the fashion and beauty industry to the next level. We need to develop successful local brands such as Femi9 and Vivid Flair which we feature in this issue. We have many talented young designers, stylists, photographers, models, artists, hair­stylists and make-up artists in Saudi Arabia and we'll be showcasing their work in future issues as well as the latest industry news and developments.
Stories on international labels such as ADAY and Sibirien Stockholm, both of which take sustainability very seriously, show just why we're dubbed 'the global fashion magazine'. We've a report from the Fashion Awards from London, the Organic Spa show from Los Angeles, an interview with hairstylist Oscar Blandi in New York, and travel features on Japan and Boston, as well as two shoots from two international teams: one in the us, the other in New Zealand, the latter with a Japanese theme.
This is only our third issue and the response from our readers has been amazing. Right now, the magazine is made available to first- and business-class passengers on Saudi Arabian Airlines' international flights and in VIP lounges at airports. However, we're looking to make it more widely available as soon as we possibly can on newsstands and other outlets throughout the Kingdom and by annual subscription. Our goal is to quickly position ourselves at the heart of Saudi Arabia's emerging fashion and beauty industry.
I'd love to get your feedback on the magazine including any ideas you may have regarding the content. You can email me at annie.wahab
@
lucire.com and follow me on Twitter and Instagram, @anniewahab.
Finally, on behalf of Jack Yan, Al-Jawhara Al-Oteishan, Simon Brindle and the great team at Lucire KSA, I'd like to wish all of you a healthy, peaceful, prosperous and a "fashionable" 2019. •

Related articles hand-picked by our editors
Welcome to our Lucire KSA readers
Founder and publisher Jack Yan introduces a new print monthly for our readers in the Kingdom of Saudi Arabia


The king of Saudi fashion retail
At the forefront of Saudi Arabia's fashion retail industry are two brands—Femi9 and Vivid Flair—which are both owned by Fad International. Qurratulain Wahab met up with the company's founder, Eyad Mashat, to find out more
From the January 2019 issue of Lucire KSA

Getting serious about Saudi fashion
Marriam Mossalli is the founder of Niche Arabia, one of the Middle East's leading consultancies specializing in fashion and luxury goods. She is a leading voice for Saudi Arabia's emergent fashion industry. Qurratulain Wahab headed to her offices in Jeddah to find out more
Photographed by Nouf Alhimiary and Lina Qummosani
From the December 2018 issue of Lucire KSA