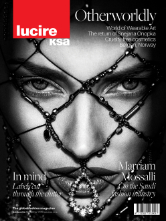 In the December issue of Lucire KSA, we featured a story on the ethical Australian designer, Brooke Da Cruz. Da Cruz talked more in-depth with us about her latest Kindred 2 collection, taking us beyond the story in the print magazine.
Lucire: When you designed Kindred 2 what lessons from your début collection did you learn?
Brooke Da Cruz: Gosh, a first collection is almost pure learning to be honest, or for me I felt it was anyway! Even after design and technical training as well as years in sales and fitting bodies, you get new feedback when you launch your own thing. I think my main takeaway and what I kept in mind when designing Kindred 2 was to make the designs more viable for a wider audience and for more stores. This included things like using fewer cut-outs, hanger appeal, and offering the option of an organic cotton or Tencel for the peace silk designs as a more attainable price.
How did you express the concepts of energy and vastness in the designs?
This was a rabbit hole that I got enveloped in when I was studying yogic philosophy and oneness (how we are all just energy the same as each and everything on this planet at our core but we are also limitless at the same time). I played with pushing the boundaries of design lines and fabrics to see where they could go whilst maintaining a great fit that should of almost technically not have been possible. I'm so lucky that my pattern-maker is passionate and open to experimenting, so [they] entertained my unconventional fit method.
It was quite a fun and experimental process that required many fitting sessions, and I believe resulted in a fit style that works with many body types as well as styles now being suitable for people who wouldn't usually be able to wear certain styles. This inspiration also [flowed] into the print we developed which was an exploration of the uniting of many cultures and finding the likeness in ancient cultures.
Which is your staple among your designs in Kindred 2?
This is easy … the Lapis Jumpsuit has been my staple and a best seller (it's a one-sided full-length jumpsuit). It can be dressed up or down with heels to sneaker or a bralette to a T-shirt. I think I'm going to make a cropped leg version for summer as it's such a goodie (comfortable but makes an impression) I always get comments whenever I wear mine! •

Related articles hand-picked by our editors

A fashionable ethos
Sarah Arnold-Hall catches up with Brooke Da Cruz, who recently launched her début sustainable fashion collection
Photographed by Emma Gray
Modelled by the author
From issue 38 of Lucire

Timi Hayek: sheer charm, relaxed sportswear
Tamara Madison talks to Beirut-based designer and Central Saint Martins alumna Timi Hayek, delivering an understated, minimalist æsthetic with her latest collections

One to one with Paulo Melim Andersson
Chris Park catches up with the Swedish-born designer whose work has graced the lines of Marni, Chloé, and Zadig & Voltaire
Catwalk photographed by the author