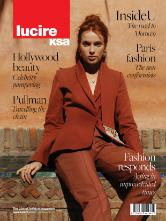 Cassie Carey was named Newcomer Stylist of the Year at the North American Hairstyling Awards (NAHA) earlier this year. She was also responsible for the hair on Lucire KSA's April 2020 cover.
Her entry, photographed by Richard Monsieurs, appears above.
Carey had always been artistic, saying that her first loves were painting and drawing. 'I took a vocational cosmetology programme in high school, which is where I fell in love with hair,' she recalls. 'I always played with my Mom's hair as well as my Dad's (he had long hair when I was younger) but it was during this programme that hair became my medium of choice!' The programme was for two years, giving her a head start for her formal training at a small cosmetology school in Concord, New Hampshire.
As with many others in her line of work, Carey headed to New York City after graduation, and found employment at Ammon Carver Studio, during which she entered NAHA. However, the salon closed in September 2019.
'Luckily I was able to stay with almost all of my co-workers as we moved over to our new beautiful space, My Darling Ivy,' she says.
'I have always been drawn to NYC for the same reason most people are: the fast pace, exciting, fashion-forward, no-limit kind of lifestyle. I wanted to move here specifically to throw myself into the photo shoot world. I was lucky enough to land myself at Ammon Carver Studio, where I was surrounded by some of the best hairstylists I've ever met, in the most loving and encouraging environment, which has carried right over to My Darling Ivy. Not to mention it was half a salon, half a photo studio, which was a dream spot to get started.'
She counts creating and shooting her NAHA entry as her favourite professional experience to date. There was a substantial sacrifice for her: 'This was the whole reason I moved to NYC. I saved every extra penny from the day I stepped foot in the city, just so I could shoot this. I poured everything I had into this collection, I learned so much about myself and what you can be capable of if you keep your goals in sight.'
Carey says she had been 'obsessed' with NAHA since beauty school, and wishes that she could create and shoot every day.
The shoot itself was 'amazing,' she says. 'I was nervous; because I had never shot something like that, I didn't know what to expect. I got to shoot it at ACS, with a team I was comfortable with, which eased my nerves and made the whole experience amazing.'
Once done, Carey says she didn't feel she was on to a winner. She had no expectations with her entry: 'All I wanted to do was take the images I had in my head and make them come to life.
'I didn't expect to win, I didn't expect to get nominated. I had never worked so hard for something and it came out even better than I had anticipated, and that for me was a win in itself.'
The win has changed her life, connecting her to new friends and boosting her confidence. 'I can reach my goals as long as I work hard. The rest is still the same, I'm still me, I still work with my favourite group of people, I still have many many more ideas and goals to reach,' she says.
Carey is involved with HuMane, a non-profit organization which believes that, according to its website, 'the power of beauty can transform communities through education.' Hairstylists who are part of the group believe they can make a positive impact to those around them. One plan, hampered by the COVID-19 pandemic, would have seen HuMane stylists head to Ethiopia in March to teach concepts at a cosmetology school there, and servicing local youth with haircuts and inspiration. 'I love what they do, I love the message behind what they do, and I love that they have allowed me to be apart of their journey,' says Carey. She still expects to travel abroad once things settle down. 'This is the type of thing I will always make time to be apart of, they are amazing.'
Till then, she has no fixed plans. 'I am taking it day by day, writing down new ideas, and, as always, looking for more inspiration.' •

Related articles hand-picked by our editors

Opulent destinations
Mark them for your post-lockdown treats. Lola Cristall visits two beauty spots with French connections: the Guerlain Spa at the Plaza Hotel in NYC, and Martial Vivot's long-running New York salon

Class and flattery are always in fashion
The renowned stylist-to-the-stars' philosophy to allow hair to do "what comes naturally" is why Oscar Blandi endures, reports Elyse Glickman, who had her mane refreshed for fall at his flagship Manhattan salon
Photographed by Gustavo Scatena/Imagem Paulista, Christina M. Hicks, and Nick Berardi
From the January 2019 issue of Lucire KSA

Derek Elvy: the last interview with the king of avant-garde
Buoy Salon & Spa founder Derek Elvy passed away in April 2018. As a tribute, we feature what he called 'the last interview,' conducted months before his passing by publisher Jack Yan. Elvy discusses his philosophy as the business he founded, with an original NZ$12,000 budget, celebrated 30 years of excellence
From issue 38 of Lucire