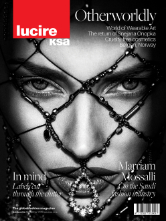 If you're in fashion in Saudi Arabia, or indeed the entire GCC region, Marriam Mossalli is one of the names at the top of the list. She was the only Arab professional in the 2015 Celebration of Design Gala hosted by then-US First Lady Michelle Obama, and her firm, Niche Arabia, boasts some of the most respected global names among its clientèle. With women's rights being positively advanced under Saudi Vision 2030, Mossalli has authored a book, Under the Abaya: Street Style from Saudi Arabia, celebrating the diversity of Saudi women, with images submitted by the subjects themselves. Lucire spoke to Mossalli about how she started her business and where she sees the industry heading.
How did you venture into fashion?
After attending boarding school in Switzerland, I moved to the United States to study at the George Washington University. I graduated with a major in psychology and a minor in film. After graduating, I returned to Saudi Arabia.
I actually started my career as a writer for a magazine and from there I was head-hunted by Arab News, the leading English-language newspaper in the region. Fashion actually evolved with my career. It wasn't really planned. When I was at Arab News, I wrote about fashion and everything related to lifestyle.
What led you to start Niche Arabia?
Niche Arabia is about the business of fashion. In Saudi Arabia, we have always tended to throw titles around. But that's wrong. You can't call yourself a 'fashion consultant', an 'image consultant', a 'stylist' or a 'designer' when, in reality, all you're doing is styling your own outfits for your Instagram profile.
For me, it is very important that people use titles correctly. We have to be honest with ourselves. How many times have I called someone saying that I need a stylist and when I get in touch, I realize they don't even know what a stylist's job is and what they really need to do? If you are a personal shopper, you don't buy clothes based on what you like but on what your client likes and needs. When I started Niche Arabia, I used my existing contacts that I made when I worked as a fashion editor. My first clients were Burberry, Christian Louboutin and Harvey Nichols. Although we continue to work with well known fashion brands, our client base has become much broader.
As a woman, were there any particular obstacles to overcome?
To start your own business, I think you have to be something of a gambler, meaning you have to be willing to take risks. Often the bigger the risk, the bigger the payoff.
I started my company when I was 25 and soon became a market leader because there was a gap in the market which I filled. My customers were Saudi women. My job was to take care of their needs. No one was doing that. That said, I made a hundred rookie mistakes and I had to learn from each one.
In my case, starting a business was very easy. A lot of people have this misconception where they think that starting a business as a Saudi woman is very difficult, but I have to say it was the opposite—at least in my case. People really support you. I have to say that I really do have an amazing team—one I totally rely on. The girls working at Niche Arabia are very proud of what we do. We don't like to be involved in mundane projects. I always have a test for them where I ask them, 'Would you wake up in the morning, do your hair, get ready, call your driver, get caught in the traffic and go to this event? If not, then why are we doing it?'
How has the Saudi fashion industry evolved?
Fashion in Saudi Arabia has always been something in which even the most conservative females can work. A woman can deal with female tailors, female clients and she can work from home. What has changed the industry in recent years is the introduction of social media and ecommerce. We've had to get serious and approach fashion as a business. Saudi fashion is now becoming more about retail. What's happening now is that you are getting a filtration.
Are you a designer who wants to be famous on Instagram or are you looking at fashion from a retail perspective? Eyad Mashat, for example, owns the Femi9 brand with 68 retail locations around the world [see Lucire KSA, January 2019]. That's mind-blowing. These are the kind of people who inspire me and I love to consult with people like them.
Fashion is evolving very quickly and it has a lot to do with the lifestyle of Saudi women. In the past, women would take their children to school, go shopping and return to school to pick them up. When they went out, it was for tea or lunch with their friends or maybe going out at night. Abayas then were very luxurious and heavy but now we have women entering the job market and that is why abayas and fashion are changing with the changing lifestyles. Eman Joharjy, for example, designs "fitness abayas". We have Utruj focusing on "work abayas". In a way, it's a bit like the United States back in the 1980s when women were entering the corporate world with their "power suits". It will be very interesting to see how our abayas evolve into "power abayas".
Most people would automatically assume women's fashionwear in Saudi Arabia would be conservative or modest. Is this accurate?
Just because we wear abayas it doesn't mean we don't have a sense of fashion. We're just like other women. We wear fashionable clothes and simply put an abaya over them. When we take off the abaya, we are wearing the same clothes as other women around the world.
And there's proof of that. At the Modest Fashion Week in London or even at local fashion shows here in Saudi Arabia, it's very difficult to find designs that can be published by our media because they are neither conservative nor modest. Saudi designers do not necessarily design modest clothes. As we continue to put ourselves out in the media and try to build a fashion industry infrastructure, it will be interesting to see how Saudi designers respond.
It's interesting that abayas themselves are becoming an international silhouette. I have seen girls wearing them in Coachella when they wear crop tops and shorts. There is a Peruvian brand called Pitusa where they literally have abayas on display. They are using the word abaya for their garments. The brand has nothing to do with the Middle East, but the designer is using the abaya as a silhouette in the same way kimonos or kaftans have been used.
How does the fashion industry in Saudi Arabia compare with the rest of the Arabian Gulf?
We have a huge market compared to other countries in the region. We have a population of almost 33 million compared, for example, to the United Arab Emirates which has 9 million, of whom 7 million are expats. We have a lot of talent and we are very creative and we have a certain æsthetic.
Now with social media, I feel that our trends and æsthetics are jelling into one Khaleeji or Arabian Gulf style. We have become more practical as our lifestyles have changed. When we work, we look for practical solutions for our fashion needs. Now we mostly go for flats instead of Louboutins; we go for abayas that will not get caught in the wheels of our chairs at work [she laughs and points to the wheels of the chairs we are sitting on].
How would you describe your own approach to fashion? Who inspires you?
Actually, I'm a very practical person. My fashion sense is influenced by the places I have travelled. And so I would say I have a Japanese–New York style. I love dark colours. I love wearing black. But most of all, it's about comfort and practicality. Of course, I dress according to the occasion but as I'm a working woman, I mostly dress for my own lifestyle.
How do you see the future of the Saudi fashion industry?
For our fashion industry to succeed, we need to create an entire ecosystem of fashion designers, models, artists and much more. I'm working on building a Fashion Design Federation which is about retail, not design. If you look at the companies operating here, most of them manufacture in China or Turkey. Many of our designers go to Dubai to shoot for their look-books. Why should they do that when there are literally hundreds of great photographers and models here at home? We should be using our own hairstylists, our make-up artists, our wardrobe stylists and photographers because we need to invest in each other. That is the biggest issue we face. We talk about it, but we do nothing about it. We are now at a point where we need to take our fashion industry to the next level. It's no longer just about having a line of clothing. It's about developing a brand. •

Related articles hand-picked by our editors

In living colour
In another look back at our archives as we celebrate 20 years: Hale Bob brings a global edge and a feminine sensibility to US west coast fashion. In 2008, Elyse Glickman visited Moroccan-born, French-educated creator Daniel Bohbot and director of marketing Marc Springer
From issue 26 of Lucire

Demystifying Stephen Jones
In another look back at our 20 years, Stephen Jones, OBE, one of the great names in millinery, talked to Jack Yan in 2013 about his creative process, his drive, and his favourite collection
Photographed by Yvonne Shearer
Catwalk photographed by Matthew Beveridge
from issue 30 of Lucire

One to one with Paulo Melim Andersson
Chris Park catches up with the Swedish-born designer whose work has graced the lines of Marni, Chloé, and Zadig & Voltaire
Catwalk photographed by the author