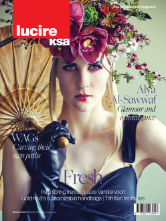 Born and raised in Jeddah, Alya al-Sawwaf spent much of her formative years drawing, sketching, cutting and pasting. Her mother encouraged her by buying her Barbie dolls and Alya would make dresses for them. By the time she was eighteen, she was designing and selling her own collections. 'I got married at the age of seventeen and had my first child, a boy, at eighteen,' she explains. 'I was balancing motherhood, my studies and my passion for fashion design in the best way I could.'
After graduating from high school, Alya took a diploma in fashion design at a local academy and from there, armed with the basics, she went to Paris to take masterclasses at Studio MVL. 'I always knew I had it in me to become a fashion designer, but I wanted to learn more,' she says. 'I would read about the latest trends but I especially wanted to know how leading fashion designers thought and worked. Many of my teachers in the masterclasses were working for leading fashion houses such as Balenciaga, Chanel and Dior. Learning directly from them was an amazing and invaluable experience and it allowed me to develop a more professional and mature approach to design and creativity. It also allowed me to learn more about branding, marketing and consumer preferences.'
Returning to Saudi Arabia to work out of her own atelier in Jeddah, Alya produced her first collection in 2010 and has continued to produce, whenever possible, four collections a year with each collection comprising up to thirty pieces. Her collections are, for the most part, a reflection of her own passion for style and glamour. Perhaps no other collection speaks more eloquently of her devotion to haute couture than the Royal collection which she produced in April 2018 for Saudi Arabia's first ever Riyadh Fashion Week.
In many ways, the show was comparable to those you might see in New York or Europe: there was a giant tent for the venue; models walked the runway in demi-couture and stilettos; and guests wore their latest spring 2018 finery. The difference was there were no men present, but, then again, this meant the women could wear whatever they wanted. The show featured mainly female designers from around the Middle East and the designers representing Saudi Arabia, including Alya, were all women. Before Alya's show, giant screens behind the runway played a video montage of her working in her studio. She was pinning tulle into pleats, fluffing up the ruffles on evening gowns and painting loose glitter onto silk organza. Inspired by the city of Riyadh and its fashion-forward trends, the Royal collection featured ruffles and ruched fabrics running down the backs or sides of dovetailed evening gowns, ranging from a colour palette of Tiffany blues to beiges and finished off with a dusting of glitter. The finished dresses included a wedding dress with a train stretching nearly 12 m.
For Alya, Riyadh Fashion Week was a major step forward. 'I'd been offered opportunities to take part in fashion shows in Paris and London, but I never took them up,' she explains. 'Riyadh Fashion Week was very special for me. I was so happy to be doing my first show in my own country with my people, my family and friends around me. And not only me. I saw it in the eyes of everyone present. Taking part in that show and seeing and hearing people's positive reactions to my work boosted my confidence immeasurably. When I took part in London Fashion Week, I was very relaxed because I knew how everything worked.'
continued below
Among the designers who have influenced her work, Alia mentions Azzedine Alaïa, the Tunisian-born couturier and shoe designer who passed away in November 2017. 'Alaïa would invite me to parties and events,' she says. 'He was a shy person. Although he was French, he was originally from Tunisia. He never spoke Arabic with anyone except me. He used to reminisce about his childhood, and he'd talk to me for hours about Arab culture and people. He taught me how to be an artist, not just a designer. He would say that if you don't have art in you, you can never be a designer. I'm an artist because I like to draw, sketch, and paint. In any mass-production brand, the designer comes up with an idea and others work on it. That's not art because they're following rather than creating. Alaïa was a real artist. He created masterpieces. Real designers create pieces of art.'
Alya's current winter collection reflects a lot of what she has learnt in the last eight years. Using fabrics from Paris, she has produced a collection of padded jackets called doudoune. 'I was in Paris and it was very cold,' she explains. 'I like to wear just one layer of clothing. I don't like wearing multiple layers even when it's cold. I was shopping on Avenue Montaigne and although they had many doudounes, they were all short. I searched everywhere but I couldn't find [a] long doudoune. Long jackets and coats are currently very fashionable and so I bought the fabrics in the colours I wanted and made my own doudoune coats. And that's my winter collection. When people ask me how I thought of long doudoune coats, I tell them, "Because I wanted one!"'
Alya is optimistic about the future of Saudi Arabia's fashion industry. 'There are many great designers popping up,' she says. 'Saudi people's perception about fashion design is changing and fashion designers are now coming to be seen as professional working people. They used to be seen as just hobbyists but now they're being taken seriously. I believe the Saudi fashion industry will start to flourish in the very near future. Designers here are passionate about their work. Most of them have had to start in a vacuum, unlike designers in other countries where the fashion industries were already firmly established.' To bring Saudi fashion design up to international standards, she believes Saudi designers need to travel, acquaint themselves with the latest fashion trends and learn from other designers around the world.
With customers in Saudi Arabia and the Middle East and further afield in Switzerland, Russia and other markets, Alya's just as optimistic about her own brand, Swaf. 'I want to show people that fashion is not just about showing off your finery, it is also about how you think and who you are. While I do buy a lot of clothes, I also wear many of the clothes I design—because that's who I am.' •

Related articles hand-picked by our editors

The king of Saudi fashion retail
At the forefront of Saudi Arabia's fashion retail industry are two brands—Femi9 and Vivid Flair—which are both owned by Fad International. Qurratulain Wahab met up with the company's founder, Eyad Mashat, to find out more
From the January 2019 issue of Lucire KSA

Getting serious about Saudi fashion
Marriam Mossalli is the founder of Niche Arabia, one of the Middle East's leading consultancies specializing in fashion and luxury goods. She is a leading voice for Saudi Arabia's emergent fashion industry. Qurratulain Wahab headed to her offices in Jeddah to find out more
Photographed by Nouf Alhimiary and Lina Qummosani
From the December 2018 issue of Lucire KSA

In living colour
In another look back at our archives as we celebrate 20 years: Hale Bob brings a global edge and a feminine sensibility to US west coast fashion. In 2008, Elyse Glickman visited Moroccan-born, French-educated creator Daniel Bohbot and director of marketing Marc Springer
From issue 26 of Lucire