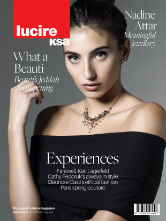 Had Nadine Attar not made her decision to leave a successful banking career and to follow her passion, the jewellery world would be all the poorer. Her work—intricate, meaningful, and beautiful—is inspiring to look at. She has trained to become a gemologist, a certified diamond graduate, a certified gemstone grader, and an accredited jewellery professional: her rise to top of her profession was no accident—Attar applied herself to her profession with a great deal of passion.
Lucire: How did you get into the jewellery business?
Nadine Attar: My family owns a business dealing in luxury watches. My father is very passionate about jewellery and when I was quite young, I would often go on business trips with him to Geneva. Although I definitely inherited his passion for jewellery as I was growing up, I didn't immediately think about it in terms of a career. My bachelor's degree was in management and information systems and I worked in banking for eight years. During that time at the bank, I began to think about designing my own jewellery. Even then, I wasn't necessarily thinking about it as a business. I just thought about designing and creating pieces I could wear myself. I talked about the idea with some of my colleagues at the bank and they encouraged me. They also began to ask me if I would design gifts for their wives, sisters, and mothers, and I began to accept their orders for custom-made pieces.
Who or what inspires your designs?
It can be anything. It can be a person, or it can be something I've seen and liked. It can be an animal, or it can be a combination of colours. Essentially, when I design pieces of jewellery, I design pieces that I would wear myself. I don't design something just because the customer likes it. That's not how I operate. The other thing is that I try to create pieces that tell a story. I have some bangles that were passed down to me from my grandmother which I used to adore wearing as a child and I often wear jewellery from my mother's collection including pieces that she has had since she was a teenager. I get many compliments when I wear them. They have a timeless quality about them and each of them has a story to tell. This is what I try to achieve in my own jewellery designs. I try to create pieces that tell a story.
One of your most popular collections is called Rouh. Can you talk about that?
The inspiration for Rouh, which is the Arabic word for spirit, was a two-year-old girl. Her mother asked me to design a pendant for her daughter which would include some verses from the Holy Qur'an. I put myself in a time machine and tried to imagine this little two-year-old girl at different stages of her life. Would she still be wearing the pendant at college? Would her friends ask her about it in the same way people ask me about my mother's jewellery? I wanted to create something simple. I didn't want a piece with a kitty, or a butterfly, or a bumblebee for a two-year-old. I wanted to design something timeless and meaningful—something she could wear growing up as a child, as a teenager, as a young adult at college and on into her later years.
How did this initial idea grow into a collection?
As I said, I wanted to created pieces that were timeless and uncomplicated. The collection comprises bracelets, rings, earrings and wedding bands, and has different tiers—classic, paved and bubble. The bubble tier is the most expensive because it has bigger diamonds. There are four different kinds of themes from which clients can choose. There are designs incorporating verses from the Holy Qur'an and there are designs based on Asma ul-Husna [the beautiful names of the divine]. These are what you might call "classic" Islamic themes and they're actually the ones people ask for the most. The third theme is more philosophical—a quote from the poet, Khalil Gibran, which is very motivating and affirming. Personally, I like to wear things like that and that's why I created it. The last is based on a romantic poem by al-Mutanabbi. It's a secret message shared between two people who care for each other. It's sentimental and affectionate. Clients choose the message they want to share.
I also have a men's collection which is inspired by Rouh but is sleeker. There are cufflinks, bracelets and rings. I use materials such as titanium, steel and aluminum because they're not only solid but also lightweight and practical. Generally, men don't want to wear heavy jewellery. Actually, practicality for both men and women is a very important consideration.
Beside practicality, what are some of the other most important design considerations?
Individuality is very important. I also design earring tags. When you buy a nice shirt or blouse you will usually want a nice skirt or a pair of pants to go with it, right? That's the idea behind earring tags. You can wear them with your own earrings. I have what I call 'tassel' and 'starburst' tags. We're all individuals. We're different. And so, we don't necessarily want to copy others in what we wear or how we express ourselves. You can come into my boutique and buy a tag to match with your own earrings. That way, you can create your own individual style.
continued below
Tell us something about your custom-made pieces.
I love to design custom-made jewellery. Although the designs depend to a large degree on the needs of the client and the budget, it nevertheless gives me freedom to be creative without too many restrictions. It allows me to create art. It always feels great to know that you've created something the client likes, enjoys and is happy with.
Tell us something about the process of producing jewellery.
It depends on the piece. With custom-made orders, finalizing the design involves regular consultations with the customer. There's often a lot of back and forth and it can take a month or more until the customer finally approves the design. Manufacturing and shipping will usually take between two to three months depending on how complicated the piece is. With high jewellery, the process takes longer—usually not less than six to eight months. I create the design and then we create design files. We create 3-D printed versions of some of the parts to see how they fit and then we select the gemstones. It's a long process but the more carefully thought through the design process is, the better the final product.
Tell us about one of your first custom-made designs.
The first custom-made order I did was for a gentleman who asked me to make a piece for his wife whose star sign was Leo. I created the face of a lion and embedded her name into its features. I had someone help me draw it because at that time I wasn't very good at drawing. I had to take classes in London. I had so many ideas, but I didn't know how to express them and transfer them on to paper. The piece turned out really well and it remains one of my favourite custom-made pieces.
You recently had an exhibition in Jeddah.
Yes, it was in January. It was to promote the brand, Nadine Jewellery. I invited around 180 guests to a private gallery in Jeddah. The jewellery on display was mostly my New Year's limited edition which I've called Aurora. Although the collection comprises only five pieces, it's very special to me because I think it truly marries art and craftsmanship. A lot of thought and hard work went into each piece. Guests were also able to watch a short film about my work called Crafting Memories, featuring the well-known television presenter, Ola Al Fares.
continued below
Are you influenced at all by other designers?
Not really. I would say my designs are relatively unique. If they do occasionally resemble an international brand that will always be by coincidence. That said, I do try to benchmark with brands such as Van Cleef, Bulgari, Harry Winston and others. Many of my designs are a mix between classic and modern and often reference Arab culture. I like to push the limits a little bit in order to arrive at a piece that both reflects the culture and at the same time is modern enough to be international. That's what I tried to do in the Rouh collection. I also have another collection called Sirr which is the Arabic word for secret. I revived the Victorian-style locket with engravings and a place inside where you can put a picture. Again, it's very much about creating heirloom pieces that last forever. They are very complicated pieces to make.
What challenges have you faced growing your business?
So many. Perhaps one of the most difficult challenge I faced was manufacturing. It actually took me five years to find a reliable manufacturer. Unfortunately, in the jewellery business, you can easily get fooled and finding a manufacturer I could absolutely trust wasn't easy. I began manufacturing between Saudi Arabia and Dubai but because I'd been exposed to very high-quality products, I didn't like what I saw. I looked for manufacturers everywhere and eventually decided on Italy. Although manufacturing in Italy is expensive, you're assured of the quality. Another challenge has to do with ensuring the quality of the brand. Obviously, the piece itself is something you should be proud to show off. But it doesn't stop there. Everything matters. If you buy jewellery in Italy, you expect and demand beautiful packaging, a luxurious pouch, a high-quality box, a catalogue, and a very high level of personalized service. That's a lot of hard work.
What have you learned along the way?
A great deal. There's been a lot of self-exploration and self-discovery. After leaving the bank, I stayed at home for nine months thinking about how to create my jewellery brand. That period was very difficult for me and I admit I sometimes felt quite lost. Before that, I'd been busy all the time. I'd started work right after graduation and so I'd never had the time to actually explore who I was. At home, I was trying to find myself. I kept wondering if I was doing the right thing. I had many ideas floating around in my head and I drew many designs. I made jewellery for myself in order to explore what worked and what didn't and at the same time, show it to others to get their reactions. There was a lot of trial and error. Because my father was a businessman, he was quite sceptical at first. But when he and my mother saw how persistent I was, they had no choice but to support me. My father started to connect me with people he knew and gave me a lot of valuable advice.
What is your advice to people who might be trying to start their own business?
I would say that if you're passionate and determined and you know what you want, you should go for it. On the other hand, I would never advise anyone to leave a solid career if they don't know what they're going to do. It's true that the higher the risk, the higher the payoff. However, as an entrepreneur, you have to accept the possibility of failure. Many people give up too easily. Even when I left the bank and didn't really know what my designs would eventually look like, I at least had the determination to continue and I would seek help wherever I could find it. I believe that kind of commitment is really important. •

Related articles hand-picked by our editors

Because that's who I am
Alya al-Sawwaf is a devotee of haute couture and many of her designs under her Swaf brand reflect both her own personality, and the glamour and extravagance found among women in the upper echelons of Saudi Arabian society. Qurratulain Wahab met up with Alya who talked about her unique, maximalist approach to fashion design
From the February 2019 issue of Lucire KSA

The king of Saudi fashion retail
At the forefront of Saudi Arabia's fashion retail industry are two brands—Femi9 and Vivid Flair—which are both owned by Fad International. Qurratulain Wahab met up with the company's founder, Eyad Mashat, to find out more
From the January 2019 issue of Lucire KSA

Getting serious about Saudi fashion
Marriam Mossalli is the founder of Niche Arabia, one of the Middle East's leading consultancies specializing in fashion and luxury goods. She is a leading voice for Saudi Arabia's emergent fashion industry. Qurratulain Wahab headed to her offices in Jeddah to find out more
Photographed by Nouf Alhimiary and Lina Qummosani
From the December 2018 issue of Lucire KSA