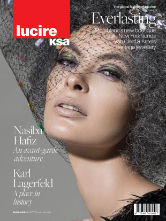 Hailing from Jeddah, Nasiba Hafiz (www.nasibahafiz.com, Instagram @nasibahafiz) isn't afraid to push the envelope when it comes to her youthful, energetic designs. She's received acclaim for her collections, which blend a life-long love of fashion, a fascination with Japan, her parents' influence, and a belief that you must have realistic goals, not just add to what's already out there.
How did you get into the fashion business?
I think a lot of it had to do with my parents—Hisham Hafiz and Nasiba Tarabzouni. When my mother took me out shopping, I would choose what she would wear—her dress, her shoes, her handbag and even her lipstick. I think that by the age of nine, I probably already knew I wanted to be a fashion designer.
After graduating from high school, I applied to Central St Martins in London to study women's fashion design. Central St Martins is where many well known designers such as Alexander McQueen and Stella McCartney studied. Although I completed my foundation year, I wasn't accepted. It was devastating. I was so discouraged I began to feel that maybe fashion design wasn't for me.
Despite the disappointment, I went ahead and applied to my second choice—the London College of Fashion—where I was accepted to major in fashion photography and styling. Living in London as a student was actually an inspiration in itself. The streets of London were filled with stylish people from all over the world and street style was becoming super-trendy.
After getting my degree, I came back to Saudi Arabia to work in the fashion industry. I worked in Rubaiyat, a luxury fashion retailer, as a visual merchandiser and a buyer and later with Sawany, another retailer. Almost ten years after graduating from the London College of Fashion, I went back there again to do a short course in fashion design. I already had a few pieces that I'd designed and I just needed an extra push to start my own brand. After I had my first baby, I decided to launch the Nasiba Hafiz brand with my first collection called Polka Dots.
What inspired Polka Dots?
It was inspired by the legendary Egyptian actresses of the 1950s. It was one of the first big pop-ups to be displayed in Saudi Arabia. People didn't really know what pop-ups were in those days. Although technically, Polka Dots was the first collection using my brand name and I was the face of the campaign, it was in many ways a follow-up to something I'd done a year earlier which I called the Tribal collection. This also had a 1950s feel. My muse for the Tribal collection was the Egyptian actress, Faten Hamama, a woman who personified class and style the same way Audrey Hepburn did in western cinema. I went to Al-Balad, a historical area in Jeddah which is well known for its open markets and traditional Hijazi architecture, to look for African fabrics. Using bold prints, cottons, denims, and mixed patterns, I wanted each piece to celebrate the female form. Each dress or skirt would create a classically feminine silhouette. The response to the Tribal collection was really positive and that encouraged me to continue the theme with Polka Dots. It was the beginning of social media in Saudi Arabia. I posted the images and was able to create quite a buzz.
Since those first collections, your work has covered a broad range of themes—from Japan to rock and roll. How do you come up with your ideas?
The ideas emerge in different ways. For example, I've always had somewhat of an obsession about Japan. I sometimes feel that in another life I'd have been Japanese. Even on the streets of London as a student, the clothes worn by Japanese girls would always grab my attention. I had visited Première Vision, a textile, fabric and fashion expo that takes place each year in Paris, and came across some great Japanese fabrics and prints. Although I'd never visited Japan, I decided to launch a Japanese collection which I called Harajuku. I got in touch with the factory and bought a selection of fabrics. Harajuku is named after the famous shopping district in Tokyo which is known internationally as a centre of Japanese youth culture and fashion. The collection is conservative yet colourful, cool and eccentric. Many of the designs are influenced by the flowers that bloom in Japan—including the cherry blossoms. I should mention that after I got divorced in 2013, I remarried in 2016 and went to Japan for my honeymoon. It was an amazing, incredible and magical experience.
Rock 'n' Biba was launched for spring–summer 2016 at Fashion Forward Dubai. The collection features a mix of contemporary dresses, vests, shorts, and skirts inspired by rock and roll music. I think it's probably one of my most exciting collections. The idea was that no matter how rough and tough you may look on the outside, you should be kind and soft-hearted on the inside. The collection was all leather and did really well.
There's also the Vintage collection which I like a lot. The inspiration for this was very personal. My father was very fond of collecting ties. After he passed away in 2016, we were left with a huge collection of ties that we didn't want to give away because they were very special to us. It was those ties that inspired the Vintage collection. In fact, quite a few of my designs have been inspired by what my parents would wear. I did a vintage scarves' collection based on what my mother used to wear. My newest collection, Nasiba 2019, was recently launched in Riyadh and will be launched in Jeddah very soon. This was also inspired by vintage scarves and prints and has a very '90s vibe to it.
continued below
How would describe your approach to design?
I think there are many factors at work. Being from Jeddah certainly plays a role. It's such a charming and vibrant city in terms of its people and its street life and it's on the sea which I love. Whenever I design, I'm thinking about the women in Jeddah. I'm thinking about working Moms, single Moms and hardworking women from around the world that are living in Saudi Arabia. Many of my ideas arise from memories of my childhood. It could be something my mother had worn, something I remember seeing in her wardrobe, old pictures of my parents. At the same time, I keep myself fully aware of new fashion trends. If I was to summarize my approach to design, I'd say it's about balancing vintage designs and current trends. I try to make them work together.
I believe you also collaborate with other people and organizations.
Yes. Collaborations are an important element of the Nasiba Hafiz brand and they help to keep the brand fresh. You learn so much from collaborations. Everybody has something to contribute. For example, I have an ongoing partnership with Nesma Embroidery, which teaches sewing and embroidery to disadvantaged Saudi women in small villages. I also collaborate with Sarah's Bag in Lebanon which works with women who are in prison. I like to support these non-profit organizations.
Why haven't you ventured into retail?
Actually, I'm kind of against going into retail. I like the whole exclusive feel of the brand. My designs are not made for mass-production. Each piece is hand-made; everything is cut by hand and sewn by hand. It's not about "fast fashion". The people involved in making the pieces are very special and gifted people and they're also very aware of the way I think in terms of the brand. Like me, they're very passionate about what they do. It's a small business and I'm happy to keep it that way. I feel that if we were to start to produce in bulk, we'd start to lose some of that passion.
How has fashion evolved in Saudi Arabia since you first entered the industry?
Things have evolved so much since I started in 2013. The days of excess colours, florals and sequins, are gone. Fashion has taken a more modern, simple and sophisticated turn. Everyone, especially the young people, are active on social media and they're so well informed about so many different things.
It's a growing market, so as a designer you have to take into consideration what is missing from the market. And there are other changes taking place. For example, my 2019 collection was produced in Saudi Arabia from A to Z. I used to get my fabrics from other countries such as Italy, but with this collection, the fabrics are all sourced in Saudi Arabia. I've also been able to find really good printers. In the past, I was always reluctant to print here but it worked out really well. We always had a lot of talent in Saudi Arabia but now it's being highlighted and celebrated.
What's a typical day in the life for Nasiba Hafiz?
I don't like the idea of having a routine though the lack of a routine stresses me out sometimes. I operate from home which has its pro and cons. A typical day will always have a yoga session, a nice meal at the end of the day and quality time with family. I try not to be too active on social media because with social media I feel like I'm working 24–7. I like listening to audiobooks.
Your home is amazing. Do you have a special interest in home décor as well?
Yes, I do. I love home accessories. I used to collect a lot of things when I was studying abroad. When I moved here, I didn't have a particular style in mind. I'd just arrange objects in such a way that they went well together. A chair from my mother's room, my Dad's ottoman, an old painting from my childhood, pictures and posters I brought back from my travels abroad, classic china coffee cups—you name it. My sister says my home décor is 'eclectic' and so I guess that's my style. The Greek–Mediterranean style outdoor pool area and courtyard is one of the main reasons I chose to live here. It gives the house such positive energy.
How about your own clothing choices?
Actually I love to wear Levi's jeans and a black top. I have a large collection of black tops. It's a kind of semi-uniform thing I like to wear along with one of my abayas. I always like to wear at least one of my own creations even if it's just a pair of shoes or a lipstick.
And your advice to aspiring fashion designers?
First of all, I would advise them to set realistic goals for themselves and be very aware and conscious of what is happening in the industry. They should be even more conscious about why they want to get into the industry in the first place. I always ask myself, 'What's the point of doing this or doing that?' In the fashion industry, you must do the same. You need to find out what's missing and not just keep adding to what's already there. Although it's often good to aim high and to look up to the big international fashion designers, I think it's also useful to look at what local designers and entrepreneurs are doing. Everybody wants to attain international recognition but setting realistic goals for the journey is very important.
The other thing I would say is that you have to be determined to stick to your vision. When I started out, my family and people close to me were very supportive. But when I decided to make myself the face of the brand, that was pushing boundaries and there was some pushback from some of the male family members who couldn't accept it. I wasn't trying to offend anybody but that's just the way I was. You need determination. I've studied, worked, lived and breathed fashion for a very long time. It's been an amazing journey. Now when I look back, I feel like I've gained so much knowledge in so many different areas of the fashion industry. Even now, when I design, I think of the photo shoot; I think of the display; I think of the buyers. Everything I did over the years led to where I am today. So, no regrets at all. •

Related articles hand-picked by our editors

Because that's who I am
Alya al-Sawwaf is a devotee of haute couture and many of her designs under her Swaf brand reflect both her own personality, and the glamour and extravagance found among women in the upper echelons of Saudi Arabian society. Qurratulain Wahab met up with Alya who talked about her unique, maximalist approach to fashion design
From the February 2019 issue of Lucire KSA

The king of Saudi fashion retail
At the forefront of Saudi Arabia's fashion retail industry are two brands—Femi9 and Vivid Flair—which are both owned by Fad International. Qurratulain Wahab met up with the company's founder, Eyad Mashat, to find out more
From the January 2019 issue of Lucire KSA

Getting serious about Saudi fashion
Marriam Mossalli is the founder of Niche Arabia, one of the Middle East's leading consultancies specializing in fashion and luxury goods. She is a leading voice for Saudi Arabia's emergent fashion industry. Qurratulain Wahab headed to her offices in Jeddah to find out more
Photographed by Nouf Alhimiary and Lina Qummosani
From the December 2018 issue of Lucire KSA