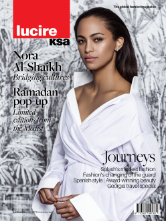 Nora Al-Shaikh's approach to fashion is inspired by her love of travel. From the museums and art galleries of London, Paris, New York and Los Angeles to sun-drenched promenades at Cannes on the French Riviera, Masai beadwork from Africa, the remarkable women of Asir province in south west Saudi Arabia or the surreal colours of the Arabian desert, she has translated her very personal travel experiences into what is a truly unique and global approach to fashion design.
Lucire: How did you first become interested in fashion design?
Nora Al-Shaikh: My interest in fashion design probably goes back to when I was five or six years old, when my mother would take me with her shopping for fabrics. She was very fashion-conscious and knew exactly what she wanted. She would take fashion magazines to tailors so she could show them what she wanted. When my aunt got married, I was eight years old. My mother let me pick a fabric in the colour I wanted and choose a design. That was my first experience of design. I was super-excited when the dress came back from the tailor and I was able wear it to my aunt's wedding.
Despite those early childhood experiences with my mother, I still wasn't really sure I wanted to get into fashion design and never thought of it when I chose my major in college. I took a business administration degree at King Saud University because one thing I did know was that at some point I wanted to start my own business. I actually realized my passion was for fashion design in my last year at college after attending a workshop called 'This Is Me'. The three-day workshop was run by British career advisers who helped us to learn about ourselves and what we really wanted to do after graduation. The very same day I graduated, my father showed me a newspaper advertisement for a two-year diploma in fashion design. That's something I'll never forget. It was a very special moment—the fact my father was encouraging me to pursue further education and that it was in fashion design. That's when I knew it was meant to be. I enrolled at the Arts & Skills Institute in Riyadh, which was offering the first fashion design diploma of its kind in Saudi Arabia. The institute had just opened and was affiliated with an Australian university. The teachers were Lebanese.
When did you launch the Nora Al-Shaikh label?
Shortly after graduation, I started to design abayas, T-shirts, eveningwear and other clothing, some of which I was able to present in 2009 at Saks Fifth Avenue in Riyadh. By 2012, I had a pretty good idea about what direction I wanted to go, and that's when I decided to start my own brand. My first collection, Modernista, was launched the same year. I'd spent the summer in New York and Los Angeles, which I'd not visited for ten years. The modernity of the cities, the buildings and the people had an enormous impact on me, and I came back to Saudi Arabia with many ideas and images in my head. The collection drew a huge response. I showed it to Princess Deena Al-Juhani who offered me space in her retail store d'na to display the collection. Princess Deena actually gave me a lot of support in my early years, and still does to this day, for which I'll always be very grateful.
My second collection was Futurista in the autumn of 2014. It featured very shiny fabrics and, as the name suggests, it was very futuristic. The cuts were edgy and modern. Shortly after completing my fashion design diploma, the school took us to a fashion show in Paris where we had the chance to network. I met the owner of a women's fashionwear store in Los Angeles. We kept in touch. When I saw he was launching a collection in his store I jokingly asked him, 'When's my turn?' and he said, 'You're next.' I started working on the collection and travelled to Los Angeles for the launch. It was very spontaneous.
continued below
Who and what inspires your work?
I love designers like Toni Matičevski, Victoria Beckham and Alexander Wang. I like their work because I like multi-wear pieces. I like pieces you can wear in different seasons. That's not to say my work reflects their designs. It's more about being inspired by their direction. I'm also inspired when I travel, which I do quite frequently. I'm inspired by architecture, art installations and people I encounter on the street—whether in London, New York or Los Angeles. They are like references which I translate into my designs. For example, for my fall–winter 2017–18 collection, which I actually called Voyageur, I took inspiration from visits to museums and art galleries in Oman, Paris, London and Los Angeles over the course of a year. In Muscat, Oman, I took in traditional costumes and tools on display at the national museum. At the Tate Modern in London, the Centre Georges Pompidou in Paris and the Los Angeles County Museum of Art, I explored the work of contemporary artists and abstract impressionists such as Willem de Kooning, Joan Mitchell, Helen Frankenthaler and Lee Krasner. Somehow all that got translated into the collection.
For my spring–summer 2017 collection, I looked to the south of France where I spent two weeks sketching in Cannes. It was inspired by the work of the photographer Louise Dahl-Wolfe, who created Technicolor images of models posing outdoors in the sun, wearing clothes by mid-century designers such as Claire McCardell. There's a modern casual attitude to the way they're dressed that served as the starting-point for the collection which I called La Croisette, the name of the seaside promenade stretching two miles along the Bay of Cannes.
Moving closer to home, my most recent collection was inspired by a visit I made with my family to Asir, which is a mountainous, verdant region in the southwest of Saudi Arabia. It was my first trip there and I was mesmerized. The women there are amazing. They are strong and independent women who not only raise families and work in the terraced fields, but have also created a unique visual language with the clothes they wear and in their homes, which they decorate with distinctive and colourful geometric patterns. I loved it so much and I couldn't resist using these motifs for a collection. I wanted to tap into the history and heritage of Asir through these narratives which are relatively overlooked. Even though the collection looks to Saudi Arabia's past for inspiration, it's also firmly rooted in the present through functional and contemporary shapes that reflect the world we live in today. For example, I reinterpreted Asiri geometric patterns in the form of graphic embroideries on delicate mesh tulle that I layered over colourful crêpe satin and taffeta cut into streamlined architectural shapes. The result is a rich and textured collection of modern clothes that have volume and fluidity. For me, it's not about being too literal when it comes to sources of inspiration. Even though my clothes are firmly rooted in my Saudi identity, they can be worn by women anywhere in the world. I think that's what makes fashion such a powerful tool for bridging cultures at a time when we need to do that more than ever.
I think much the same could probably be said for your Mzuqa resort 2016–17 collection. Would that be correct?
Yes, absolutely. In this collection, I looked to Africa for inspiration but through a cosmopolitan lens. I only moved to Jeddah three years ago. I was intrigued by its proximity to Africa and the African presence in the city. Jeddah is known as the 'Gateway to Mecca' and its character has been shaped over the years by waves of pilgrims and traders. Mzuqa is a collection of full-length gowns you can wear during the day or the evening. It's a reflection of how we dress here in Saudi Arabia, but also a way of dressing that has become increasingly global. The colours I chose include earthy beiges and soft ivory, as well as bold purples and vivid prints. Although I've incorporated Masai-inspired beadwork into some of the pieces as a graphic element, I also wanted to convey a sense of modernity. I actually began by looking at the work of two Malian photographers, Malick Sidibé and Seydou Keïta. There is something incredibly modern and stylish about their images of young Africans in the 1960s and 1970s. The images speak to the way I see the world today. I also took inspiration from Janet Jackson's 1997 video 'You Don't Know What You've Got Till It's Gone'. So much of the imagery in that video was inspired by Sidibé and Keïta—from its compositions to the rich prints and textures. I wanted to capture the video's timeless sensibility. As to the name Mzuqa, I met a Kenyan girl in Dubai who mentioned that Mzuqa is slang for everything that is young, modern and stylish … a word I think perfectly describes this collection.
I should perhaps also mention that Jeddah was also partly the inspiration for my fall–winter 2016–17 collection. I wanted to capture the relaxed cosmopolitan atmosphere of the city. The colour palette was informed by desert landscapes where colours shift from warm gold to dusty rose and ochre red as the sun rises and sets. This is why I called it The Empty Quarter, which is the name of the legendary Arabian desert. The collection features skirts and dresses in layers of organza and chiffon that suggest undulating sand dunes, while some of the embroidery is made up of tiny beads that suggest grains of sand.
For your Ramadan–resort 2017 collection, you collaborated with world-famous jewellery designer, Erika Peña. Tell us about that.
Yes, Erika created custom pieces to go with the collection. Both Erika and I love to travel and experience different cultures. I thought about that a lot as I was designing the collection because gatherings in Ramadan occur anywhere in the world. I wanted to create a comfortable chic collection of full-length dresses and kaftans that reflect the way women dress during those Ramadan gatherings. I worked with Erika to create a series of large necklaces composed of shell, wood, and colourful tassels.
continued below
In December 2014, you received the 'Leaders Inspiring a Kingdom in the Business World' award from Forbes Middle East magazine. The award is given in recognition of 'individuals and visionary self-starters who have the power to initiate change and contribute to the Saudi Arabia of tomorrow.' Since you began your career, how have things changed over the years?
They've changed a lot. When I started out on my career ten years ago, most people here in Saudi Arabia didn't know much about fashion design. They didn't understand the concept of a collection. They didn't understand why I was creating collections rather than designing separate pieces. And so, when I started designing, I was also thinking about making people more aware about fashion. Even in 2012, when I did my photo shoot in Dubai, people couldn't understand why I'd travelled to another country for the shoot. They would tell me to shoot here where I could find models and photographers. I told them I needed the best photographers and models who are a certain height, weight and who pose in a certain way. Over time as I and other up-and-coming designers showed what we were able to achieve, people started to better appreciate what we were doing. Although I often had to negotiate prices, I was fortunate that whatever I designed would sell. That's what kept me going. I was also fortunate to have a lot of support which helped me overcome the difficulties. At the Arts & Skills Institute in Riyadh where I took my diploma in fashion design, there were only nine of us in the class, but we were always there to support and encourage each other. Today, of course, it's very different. The fashion and beauty industry in Saudi Arabia is growing in leaps and bounds, and there are so many great opportunities for young designers and others who want to enter the industry. •

Related articles hand-picked by our editors

Simply elegant
Malak Ahmed is one of a new generation of young up-and-coming Saudi fashion designers. She launched her brand last year but is already creating waves with ready-to-wear pieces that are simple, elegant and meticulously tailored. She recently launched her Eve collection at the Hub 27.1 concept store in Jeddah. Qurratulain Wahab met with Malak to find out more
From the May 2019 issue of Lucire KSA

From cherry blossoms to rock and roll
Nasiba Hafiz is widely regarded as one of Saudi Arabia's most avant-garde women's fashion designers. Her pop-ups have been displayed in Tokyo, Los Angeles, Dubai and London. Qurratulain Wahab visited Nasiba at her home in Jeddah to find out more
From the April 2019 issue of Lucire KSA

Because that's who I am
Alya al-Sawwaf is a devotee of haute couture and many of her designs under her Swaf brand reflect both her own personality, and the glamour and extravagance found among women in the upper echelons of Saudi Arabian society. Qurratulain Wahab met up with Alya who talked about her unique, maximalist approach to fashion design
From the February 2019 issue of Lucire KSA