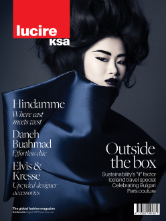 Born in Saudi Arabia, Mohammed Khoja is creating a new narrative for Middle East fashion design that is both universal and contemporary, yet also acts as a reminder of the past. From pieces incorporating vintage Khaleeji stamps related to space travel and the 1960s' moon landing to black nylon bomber jackets embroidered with astrological symbols in gold thread and T-shirts decorated with traditional Arabic calligraphy, Khoja's collections seamlessly blend elements of couture with contemporary streetwear.

How did you become interested in fashion design?
I've been interested in art and design ever since I can remember. Just two weeks ago, in fact, I was going through some old drawings I'd done as a 10-year-old and I came across several sketches of jackets and dresses. I began to take a serious interest in fashion in 2009 when I was studying in Paris, I had the opportunity to work in a concept store. I would talk about my ideas with the owner of the store who encouraged me to design a capsule collection. Being in the store around artists and designers was very inspiring. Although I was studying business, my life in Paris was very much about fashion design. Many of the people I met and places I hung out were associated with the fashion industry and I was able to attend fashion shows and events. A highlight of my time in Paris was an opportunity to meet several times with the late Azzedine Alaïa. Although he had reached the pinnacle of success in the fashion industry, he always stayed deeply connected with his Tunisian roots. He was a great inspiration.

Tell us about your brand. Why Hindamme?
I launched my brand five years after graduating. Why Hindamme? Well, first of all, it was because I didn't want to use my own name. I wanted a name derived from the Arabic language but something that would be easy for westerners to pronounce. It was actually my mother who suggested Hindamme. It's not a common word. It conveys the idea of perfect form in harmony and æsthetic. It was commonly used by bedouins when they spoke of people who were well dressed. I thought it was perfect for what I wanted to do. I grew up with a liking for streetwear and I was very interested and excited about the idea of mixing streetwear with high fashion, fine tailoring, and couture. That's what I had in mind for the brand—ready-to-wear with "attitude" but not intimidating. I would say some of the elements that identify the brand are minimalism, futurism, and tribalism inspired by culture. Monochromatic designs really appeal to me.

When you first started in the fashion business, how did your family and friends react?
My family has been very supportive and I'm very grateful for that. Parents always want the best for their children and it took a little while for my own parents to see the potential. It wasn't easy for them to see me pursue a career in what was a relatively new industry in Saudi Arabia. They would have preferred a more traditional career choice but when they saw how people were reacting to my work and the positive outcomes, they were very happy and became convinced. As a family, I think it's been a learning curve for all of us. In addition to my family, I should also mention Mona Khazindar who was the first woman—and the first Saudi—to be appointed director-general of the Institut du Monde Arabe in Paris. I consider her to be my mentor and I owe her a lot for helping to push my career forward. She helped me build connections with both Arab and international audiences.

Can you talk about your collections and what or who inspired them?
I launched my first collection in 2016. It was mainly inspired by traditional patterns that you still find in the old houses of Asir province in the southern part of Saudi Arabia. These patterns were typically passed down by women. Mothers would teach them to their daughters and other young girls. Sadly, these traditional art forms have begun to disappear and so I decided to showcase them in a contemporary way and through a totally different medium—fashion.
I think fashion is a very personal thing. It's an art form that can be worn and enjoyed. You can engage with it in many ways. It becomes a part of you. Those traditional Asiri patterns are æsthetically beautiful. Each symbol has a different meaning behind it. For example, one symbol means life; another means family. There are symbols for crops and livestock. I love the fact that the patterns are not just beautiful, but that they're inspired by natural landscapes and that the symbols have meanings behind them.
At the same time, while I knew it was challenging and even risky to pursue this route, it was such a good representation of who I am. I'm very proud of my country and my identity. I wanted to create an exchange. We're always so inspired by what we see in the west in terms of fashion, art and design. I wanted to bring Saudi designs to the west.
In general, I try not to limit myself or put myself in a corner. I'm inspired by all kinds of things. My Season 3 collection, for example, was inspired by astronomy as well as the Muslim civilization in Andalucia. I'm constantly learning as I go. I read a lot—from books about the 13th-century Persian sufi mystic and poet, Jalāl ad-Dīn Rūmī, to the Italian fashion designer, Elsa Schiaparelli. Along with Coco Chanel, her greatest rival, she is regarded as one of the most prominent figures in fashion between the two world wars.
continued below
So, I draw on a lot of very different sources for inspiration. If I'm inspired by something, I just try to stay very focused. If I look at a butterfly, for example, I can create an entire collection inspired by just that one butterfly. I would say that I'm most inspired by the idea of "east meets west". You could say that's the philosophy behind my brand. I draw a lot on cultural aspects of the Middle East and find ways to reinterpret them in fashion. I have three main collections plus three capsule collections. I'm working right now on my fourth collection which I plan to launch in September. It will be somewhat of a turning point because I'm looking at creating dresses and more tailored pieces for men.
How about the design process itself?
The design process is relatively quick and simple. When the ideas are there and accumulate, I just keep on sketching until the ideas take form. With my last collection, it only took me a week of sketching. The main challenge lies in the fine details which is currently the stage I'm at for my upcoming collection. Although my label is ready-to-wear, I try to apply elements of tailoring, high fashion and couture. I want my finished products to be something that people can enjoy. Although they could be said to be luxury items, I also want them to be accessible and so I'm always very conscious about pricing. At the moment, I manufacture my products in Europe so I have to do quite a lot of travelling. Hopefully, in the future, when the proper facilities are in place, I'll be able to manufacture my products in Saudi Arabia.

Your '24 June 2018' jacket—the day the ban on women drivers was lifted in Saudi Arabia—made waves around the world. What are your thoughts on that?

Actually, it wasn't my intention to make waves. I was genuinely moved by the announcement and I wanted to pay tribute to what I think was a great and historic decision. We Arabs don't tend to record or document things like that and so I wanted to record and celebrate the announcement in my own way. I designed the jacket to be gender-neutral and fortunately everyone loved it. As well as Arabs, a lot of Americans and Europeans ordered the jacket and it sold out very quickly. There were two museums that bought it and I also heard that university professors were using the jacket as course material to break stereotypes about the Middle East. I think that's so cool. One professor at the University of Bangladesh posted me on social media to tell me that her students loved my work and that it really resonated with them. I was so happy to hear that. It's important for me that people understand the message. I'm very proud of my country and all the progress it's making. There's a new outlook and a sense of excitement about the future. A lot of doors are opening and there are new opportunities.

How has the fashion industry evolved in Saudi Arabia since you first entered it?
It has definitely evolved in some ways. In general, I would say many Saudis are very fashion-forward. They know about the latest trends and are definitely risk-takers in terms of what they wear. On the other hand, there's still some misunderstanding about fashion. It's still not being perceived as a part of art and culture and I think we need to change that way of thinking. I think it's starting to happen due in large part to the efforts of the Ministry of Culture.

What are your own aspirations for the future?
Right now, you can find my collections in Rubaiyat stores in Saudi Arabia—in Jeddah, Riyadh and Alkhobar—and also at concept stores such as Life, Ruff and Personage. I also sell online. For the future, I definitely want to produce more work and share my art with more people. I'd love to be able to open my own stores and design studios where people can come and translate their ideas into art. I'd also love to explore other mediums such as painting, art installations, music, and furniture. In fact, I'll be collaborating with a furniture line very soon. Furniture and home accessories are two things I've always wanted to do. I think it'll be very interesting to apply some of the designs I've created to vases, ceramics or collectibles.

What's your advice to aspiring fashion designers in Saudi Arabia?
My advice is to push yourself. Be true to yourself, your identity, and your æsthetic. There will always be an audience for every type of æsthetic so don't produce something that doesn't represent you. Always believe in yourself and never compare yourself with anyone. •

Related articles hand-picked by our editors

Simply elegant
Malak Ahmed is one of a new generation of young up-and-coming Saudi fashion designers. She launched her brand last year but is already creating waves with ready-to-wear pieces that are simple, elegant and meticulously tailored. She recently launched her Eve collection at the Hub 27.1 concept store in Jeddah. Qurratulain Wahab met with Malak to find out more
From the May 2019 issue of Lucire KSA

From cherry blossoms to rock and roll
Nasiba Hafiz is widely regarded as one of Saudi Arabia's most avant-garde women's fashion designers. Her pop-ups have been displayed in Tokyo, Los Angeles, Dubai and London. Qurratulain Wahab visited Nasiba at her home in Jeddah to find out more
From the April 2019 issue of Lucire KSA

Because that's who I am
Alya al-Sawwaf is a devotee of haute couture and many of her designs under her Swaf brand reflect both her own personality, and the glamour and extravagance found among women in the upper echelons of Saudi Arabian society. Qurratulain Wahab met up with Alya who talked about her unique, maximalist approach to fashion design
From the February 2019 issue of Lucire KSA