For the last 14 years, we've compiled this list of retailers, labels and online shops.
Most of our reviews were given at the time each one was added, and may no longer be indicative. From time to time, we have updated the listings.
If you spot any sites that should no longer be here, let us know via our feedback form.
S
Saben
Roanne Jacobson's Saben brand is synonymous with handbags in New Zealand. Retailers listed at site, with etailing (added 11/01, reviewed 1/07)
Saori C. Jewelry Designs
Unique pieces from a Seattle-based jewellery designer who understands taste, style and balance. Saori C. takes inspiration from nature and her childhood in Japan, among other influences, to create beautifully crafted items from earrings to bracelets. She also has a magnificent bridal collection
Scoop NYC
A stylish site that shows that you don't need to resort to fancy-pants technology for a great retail browse. We love the illustrations and the no-frills approach, not to mention the Juicy Couture line
Shoe Chair
You may have seen this cheeky design already and wondered where to get it: a chair in the shape of a high heel. You can buy it online at a greatly reduced price in brown and black leopard patterns
Shout-Outs.com
Fun, colourful stationery that featured in the official Grammy gift bags in 2005
Skin Care by Tavin
Skin care, body treatments, make-up and waxing products, including an online store, gift certificates, articles and services (redesigning as of January 2007)
Starfish
128 Willis Street
Wellington
New Zealand
Telephone 64 4 385-3722
Fax 64 4 384-1694

See stockists at website
Streetshirts
Limited edition T-shirts guaranteed to make you look good—suitable for whether you're out on the town or shopping at Tesco
Strumpfladen
Online shop for Falke brand legwear and bodywear
Stylesmart
Shop for wholesale apparel and accessories at this colourful site. Stylesmart also offers media relations programmes for the style industries
Supré
Fashion is forever evolving, and if there is one hot fashion retailer keeping up to the trend, it's Supré
T
Tamsin Cooper
Telephone 64 3 442-1124
Fax 64 3 442-0350
Cellphone 64 21 257-6596
Full retailer listing at site
The Tie Bar
Selling 100 per cent stain-resistant, silk neckties online
Toddy
A new pyjama label from Melbourne, with cute prints for adults and kids. Sold online, and made in Australia
Tory & KO
Mezzanine Floor
Old Bank Arcade
233–7 Lambton Quay
Wellington
New Zealand
Telephone 64 4 472-2052
U
Unique Vintage
Edgy and hip vintage fashion with a range of clothes that are very twentieth century. In stock occasionally are couture, Pucci dresses, platforms and more
V
Valerie Downs
Well-known Chicago jeweller, who launched her site in May 2000. Valerie can count Lenny Kravitz and Liz Phair amongst her jewellery's wearers, and her work has appeared on The Oprah Winfrey Show, Channel 5 News and Chicago Magazine
Victoria's Secret
Including personalized online shopping, Bra Search, gift registry and other features
Vincenzo Taormina
Contemporary jewellery from Philadelphia-based designer
Vivienne Westwood
Telephone 44 20 7924-4747
Email info
@
viviennewestwood.co.uk

Retailers listed at site
Voon
Willis Street Village
142 Willis Street
Wellington
New Zealand
Telephone 64 4 801-8292
Fax 64 4 801-8182

Other locations on site

W
Wixii
Family-run online clothing store in Matakana, New Zealand, offering vintage and hand-selected new clothing
Wolford
Based in Wien, Austria, Wolford's lines of hosiery, beachwear and underwear are practical, sexy and stylish. The site is well designed and includes pictorials featuring Wolford products shot by Helmut Newton, Howard Schatz and others
RCM Clothing
PO Box 7250
Wellesley Street
Auckland 1
New Zealand
Telephone 64 9 303-9290
Fax 64 9 303-9299

Retailers listed at site

World
25 High Street
Auckland
New Zealand
Telephone 64 9 373-3034

Stores listed at site

Y
Yifat Aharoni
Romantic, upscale jewellery pieces from Jerusalem-born designer and former air hostess Yifat Aharoni, using sterling silver as a base and combining it with everything from leather to pearls and crystals
Yumi Kim
A contemporary and funky line from New York inspired by vintage prints (7/09)

Z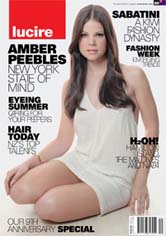 Zambesi
The first New Zealand brand to make it on to the cover of the retail print editions of Lucire, and it's not hard to see why: the classicism and approach of Elisabeth Findlay has kept the brand at the forefront of the country's fashion since 1979

Retailers listed at site
Zang Toi
30 West 57th Street
New York, NY 10019
USA
Zuss
For those who dare, these two Dutch sisters create fashion from used rubber inner tubes