Lisboa's fashion transfusion
Tiago Espirito Santo looks at Lisboa's spring–summer 2012 catwalk, with its fashion week entitled Transfusion. The four days of fashion brought the city to the world
PHOTOGRAPHED BY RUI VASCO




Nuno Baltazar



Inspired yet again by Paris, the Ma dame collection is dedicated to the cosmopolitan and dynamic women of the world. The looks are eclectic, urban and feminine with a fluid silhouette and geometrical necklines in a collection that varies between demi-couture and easy-wear.



A path for a new and geometrized silhouette was inspired by Claudia Effe's original patterns. Ricardo Preto brought us a collection, where pearlscent and pastel tones are lightened with fluorescents and broken by primary colours, reminding us that dressing can be entertaining .

Miguel Vieira

Inspired by the cliffs of Capri, Miguel Vieira showed us structured pieces and tailored cuts in his men's collection; and hourglass figures and alternating long and short pieces for an elegant look in his women's collection. The focus goes on the printed and pleated silks, satin and embroidered tulle.

Aleksander Protic

A sentence in Ridley Scott's Blade Runner inspired the whole Aleksandar Protic summer 2012 collection. Cotton, silk, leather and linen were the main fabrics; colours like red, black, white and ivory ruled the runway.




Ricardo Dourado

A collection inspired by street environments where gangs rule with violence and attitude. Ricardo Dourado gave us the crepe wires and dry-touch materials in false white and washed black that combine in unlikely looks.
Related articles
New York's flawless fashion, and beyond
Lola Saab and Jack Yan look at some of their on-trend favourites from New York's spring 2012 catwalk as the items hit the stores
photographed by Stephen Ciuccoli, Dan Lecca, Frazer Harrison and Mike Coppola
Milano: sophistication through subtlety
Jazz, Spain and the American west all played their part in inspiring Milano designers for spring–summer 2012, write Katherine Thomson and Ella Garland-Levett
photographed by Thomas Salme

Get your copy of Lucire now, for tablet, PDF or print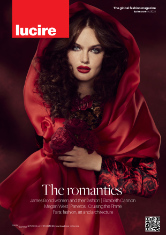 Make sure you don't miss out on the latest issue of Lucire. Download the Ipad or Android app now, read it as a PDF via Scopalto, or order a print edition from Vertia.