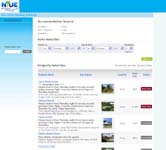 [Cross-posted] My friends Nicky and Simon at Seekom have a great new announcement. I have known about this for some time, but the embargo came off today. Imagine: a New Zealand company developing real-time booking software for the tourism industry of an entire country, in this case, Niue.
The UNDP, which provided some of the development funds for the country, sees the online world as a great equalizer, holding firm on to the ideas that drew so many of us on to the internet in the 1990s. And to a large extent, I still maintain those ideals.
Pardon the advertisement, but it's easier to excerpt from the release below.
Niue turns to Kiwi innovators for on-line booking system
Wellington, September 3 (JY&A Media) Niue Island is making history by installing its very first-ever real-time booking and distribution system as part of developing their main economic industry—tourism. Christchurch-based SAFI Technologies Ltd. won the contract with funding made available from the United Nations Development Programme (UNDP), undertook an extensive international search and chose Wellington, New Zealand-based Seekom Ltd., developers of an innovative, tailor-made real-time booking distribution system.
'We were delighted when we found that the best product came from a New Zealand company,' says Tim Johnson, managing director of SAFI. Mr Johnson says that Seekom's system won the day as it could handle accommodation, rental vehicles, tours and activities and could provide instant confirmation booking capability not only to the public, but also to the trade.
'Because Niue has a small product base, it was critical to have a system that could distribute real time availability to international sales channels on a shared, rather than allotment, basis,' he says. 'Seekom can provide this.'
'By bringing our technology up to date, we can level the playing field and compete successfully with first-world countries. We will now be able to give our visitors and business partners the convenience and certainty of real time availability and instant confirmation. Our local tourism operators are very enthusiastic and excited about the system as it will help them improve operating efficiency to boost bookings and increase bottom-line results,' says Ida Talagi-Hekesi, Director, Niue Tourism.
Seekom's booking system and GDS has been installed for Niue Tourist Office, according to managing director Simon Casey.
'While we're accustomed to developing systems for companies and chains, we're very enthusiastic about this new agreement with Tourism Niue, which will see us creating one for an entire nation,' says Mr Casey.
There's more at the press release.
We've known Seekom for years—since its inception—and for some time, the booking engine was linked from the Lucire Volante page. It did shift more into B2B, but the site remains linked from there, since I had always felt the idea had a lot of merit.
In fact, it amazed me to learn that for years, even in the age of the internet, accommodation and rental-car bookings were based on a probability calculation and not confirmed inventory. I never questioned it, but it does explain those times when Hertz upgraded me from a Contour to a Mustang (though my refusal to look like a nerd in a Taurus helped). Real-time, confirmed bookings based on actual availability takes the stress and uncertainty out of accommodation.
I'm glad Nicky and Simon have seen this through and I shall be along there for drinks later today.