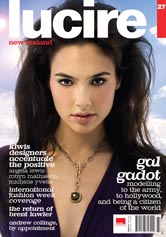 This post has gone online exactly 12 years since Lucire went live on the internet (October 20, 1997, 6 a.m. EST), to commemorate our anniversary.
Since those humble beginnings, Lucire has branched out from the web and into international print editions. And rather than go on about our history as we did in editions past, we thought it would be fun to provide 12 fun facts about us. Remember, too, that we are giving away free stuff to commemorate our birthday—from the big PDF Supplement with exclusive shoots and images to free wallpapers.
1. The original web edition was served off a machine in Alexandria, Va.
2. The online cover changed to a black background on September 11, 2001.
3. Despite stories in the media to this effect, Jack Yan (publisher) has never been referred to internally as 'editor' of Lucire. He believes the external confusion stems from the French éditeur, which appears on his card with its English equivalent, publisher.
4. The first web edition had stories from New Zealand, Thailand, Indonesia and the US.
5. Lucire was developed under the name Visage and could have been called Volante (now the name of the travel section). Both started with V and ended in e, like some other fashion magazine.
6. The first retail print edition cover featured Denise Vasi, but prototype issues, which were given away online, included now-San Francisco mayoress Jennifer Siebel on the front page.
7. The reason the Lucire logotype is in lowercase and sans serif was originally to do the complete opposite to the capitalized, seriffed mastheads of Vogue, Harper's Bazaar, Elle and others. The original typeface was Helvetica Black, but Lucire Heavy replaced it in 2001. The Dante typeface used in the New Zealand edition from 2008 was inspired by the All England Law Reports—far different from any fashion magazine!
8. As a newcomer, Style.com advertised on, inter alia, Lucire to get itself established and known in the fashion community. Lucire had linked style.com before Condé Nast even began publishing it: it was once the URL for a fashion retailer called Express Style.
9. Lucire appeared in two Hollywood films as magazines on the set but was omitted from the final cut. They were Two for the Money with Al Pacino and Rene Russo, and Snakes on a Plane with Samuel L. Jackson.
10. Lucire's highest-ranked day on Alexa Internet was in 2003, thanks chiefly to an article in the Christian Science Monitor. It was the 12,000th-ranked site on the internet that day.
11. The once-popular AltaVista Entertainment Zone got its fashion content from Lucire. Lucire also provided content to Iwon.com during the initial dot-com boom.
12. Lucire tried to start its web TV brand extension in 2000 under Monica Parente, but the technology for streaming to the quality the producers wanted was not available.