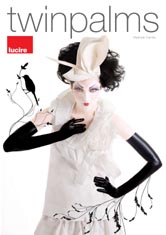 Our friend Miguel has his copies of Twinpalms Lucire from the printer—and tells me that the magazines are looking beautiful.
   As mentioned last month, Lucire launched in Thailand this week, in collaboration with Twinpalms Phuket. We had an amazingly smooth working relationship with the magazine's art director and editor, Miguel Kirjon, at Asia Design Consultants. Laura Ming-Wong, Lucire's editor for our "master edition" here in New Zealand, had commissioned most of the articles.
   The ?rst issue's artwork was readied in January but the publication, of course, had to wait till the Lunar New Year holiday was over.
   The lucky folks in Thailand can get their hands on the magazine over in Phuket; as for us here at head of?ce, we'll have to wait a few more days before they arrive Down Under.