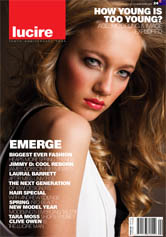 I sometimes wonder if our overseas readers, for whom the printed Lucires are less accessible, judge the hard copy by the website. In which case, this post is a good idea and may remove some uncertainties.
   Before it is deleted, I retrieved the raw text ?le of the contents' page from issue 24. This was not the ?nal, but comes pretty close. The page numbers in the upcoming Zinio edition differ given it has 16 extra pages. Visually, too, the print magazine (expectedly) is far more stunning.
First contents' page
33 Cut from the Finest Cloth Our nine-page feature on the young designers behind Nom*D, Zambesi, Karen Walker and World by Sylvia Giles
44 Tunnel Vision The attraction of fashion: an investigation into its constants and variables, with a Warholian stance by Sylvia Giles/photographed by Douglas Rimington
48 The Next Best Thing Emerging modelling talent from New Zealand, Brazil and New York
80 Animal Instinct photographed by Hannah Richards
92 Retro Flexion photographed by Hannah Richards
100 CMYK photographed by Marissa Findlay
106 Hypnotize photographed by Kelly Thompson
126 Making More than Music Miss New Zealand Laural Barrett, back from Miss Universe by Jack Yan/photographed by Camille Sanson
146 Rosamund photographed by Andrew Yee
Second contents' page
11 Editorial by Laura Ming-Wong
16 Fashion Tamsin Cooper is back
18 Now Looks for spring: tropical paradise, metallics, print power and sky-high hemlines
26 Première From Fashion Week to a femme fatale
28 The Circuit: Sydney Vision from Cybèle and Zambesi
30 Rebirth of Cool James Dobson, the man behind Jimmy D by Emma Tate
42 Outside the Southern Comfort Zone Hokonui Fashion Design Awards '07 by Sylvia Giles
52 Picture Perfect Hannah Richards is a good Kiwi gal by Jo Haas/photographed by Hannah Richards
54 Christchurch's Time for Style Style Christchurch previewed
56 Ten Things You Didn't Know about Stolen Girlfriends' Club photographed by Steve King
58 Beauty Wowing them for spring
60 Vanilla.co.nz Customer focus from Wellington salon by Jack Yan
62 Stop Time You're never too old to start ?ghting time by Sam Mitchell
64 Insight The latest in beauty
66 Light Years Away A gentle light therapy at Trois on Allen by Emma Tate/photographed by Emma Käthe Anderson
68 Four the New Way Schwarzkopf's new looks for spring
71 Talent Spotted Tammy Ung is L'Oréal Professionnel's Talent Spotting winner
72 Smoothing the Surface Fighting cellulite by Sam Mitchell
74 More than the Image Andrew Collinge talks about his career by Jack Yan
76 Stretch Mark Alert Hiding those unattractive attributes by Sam Mitchell
78 Pole Tact Pole dancing for ?tness by Caleigh Cheung
85 Lucire Man: Rich Mixture Clive Owen profiled
87 Lucire Man Fashion, beauty and boys' toys, including two very different Audis
114 Volante Best of New Zealand
116 The Real City of Love From LA to Berlin by Karen Loftus
117 True Rome-ance Rome wasn't built in a day by Elyse Glickman
118 Van-tastic Voyage Vancouver makes a nice change by Elyse Glickman and Leyla Messian
120 Investigating Tara Moss An exclusive tour of Sydney by Elyse Glickman
122 The Right Angles The Quadrant shows it's hip to be square by Jack Yan
123 Living Looking good at home, plus a few tipples
130 Universal Talent Tadashi Shoji, Miss Universe designer by Stanley Moss/photographed by Cat Soubbotnik
132 The Scene Tinseltown, Tribeca, Cannes, Mandatory
137 Oracle Our regular columns by Jack Yan, Monica Waldron and Michiko Hughes
145 Market-place
160 Now Tailpiece Short dresses for spring
162 Luxury Line Looking expensive
   As you can see, not many of the online edition's articles are shared with the print edition. Sometimes, the website gets excerpts, but that's balanced with some full-text versions that we do not run in print. Often, the web has very different articles altogether.
   I'd welcome your views on any of the above articles, especially if you feel any are worth repeating online.